iTEMP TMT182
Temperature head transmitter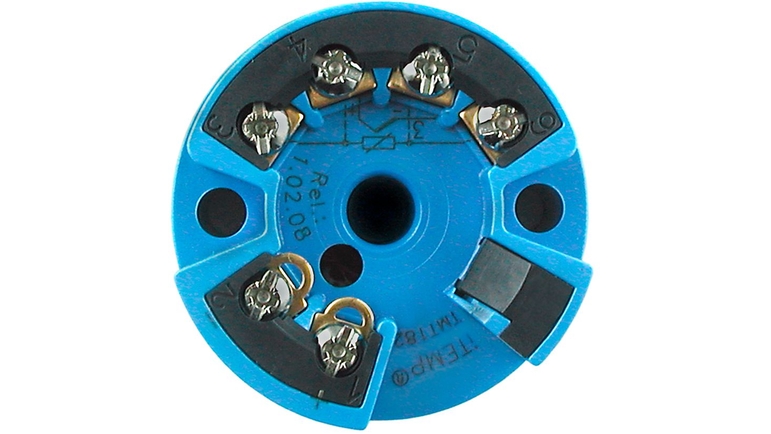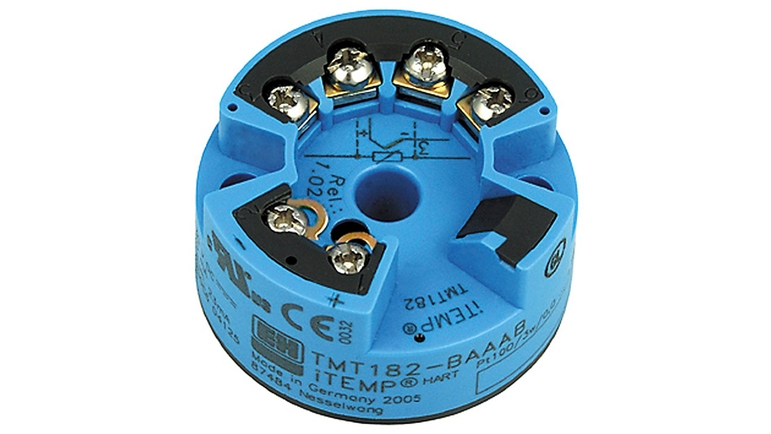 Transformation of sensor signals into stable and standardized output signals for all industries
Unsurpassed reliability, accuracy and long-term stability in critical processes over all industries. The configurable transmitter not only transfers converted signals from resistance thermometers (RTD) and thermocouples (TC), it also transfers resistance and voltage signals using HART® communication. It can be installed as an intrinsically safe apparatus in Zone 1 hazardous areas. Swift and easy operation, visualization and maintenance by PC using operating software.
Benefícios

Front end unit or panel unit operation using the hand operating module or PC


High accuracy in total ambient temperature range

Fault signal on sensor break or short circuit, NAMUR NE 43 compliant

EMC to NAMUR NE 21, CE

Ex-Certification: ATEX Ex ia and dust...
Campo de aplicação

Temperature head transmitter with HART® -protocol for converting various input signals into an scalable 4 to 20 mA analog output signal

Input: Resistance thermometer (RTD), thermocouple (TC), Resistance transmitter (Ω), voltage transmitter (mV)

HART® -...
Documentos / Manuais / Software
Acessórios / peças sobressalentes
The unit is not repairable

Spare part set for TMT181/187/188/182

(4 screws, 6 springs, 10 spring rings)

DIN rail clip

according to IEC 60715 for temperature head transmitters.

Commubox FXA195

Modem to connect HART field devices to a computer via USB. Commissioning of field devices with software tool. :: To connect to a intrinsically safe signal circuit. :: SIL2, IEC61508.

Readwin 2000 Operation + Read. software

Field housing TAF10

Application: E+H Head transmitter. Housing: Alu IP66, 100x100x60mm.
21.01.2019 - 23.01.2019

With the help of actual hands-on tasks you will learn how PROFINET technology works in detail.

18.03.2019 - 22.03.2019

With the help of actual hands-on tasks you will learn how PROFIBUS networks are installed in detail. The emphasis is on the correct installation and usage of tools.

09.09.2019 - 13.09.2019

With the help of actual hands-on tasks you will learn how PROFIBUS fieldbus technology works in detail. At the end of the course you will be able to design and commission a PROFIBUS fieldbus network.

22.10.2019 - 24.10.2019

You will learn with the help of actual hands-on tasks, how FOUNDATION Fieldbus technology works in detail. Features like control in the field are shown as well as device configuration via DTM.